v.3.12 rev.1
main page
Register
Log In
Log In with:





Log In with:




Figures »
figma Suzumiya Haruhi Disappearance Ver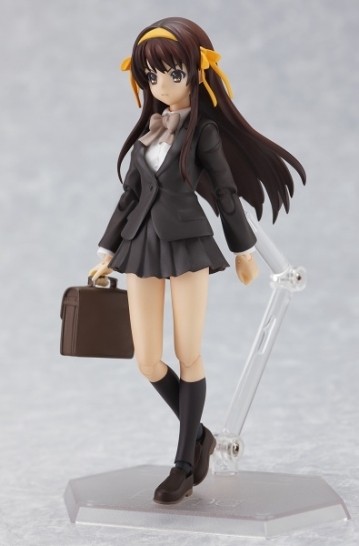 Features:
figma Haruhi from a completely different world!
From the movie "The Disappearance of Haruhi Suzumiya" comes a figma of Haruhi wearing her Kouyou Academy uniform!
# Using the smooth yet poseable joints of figma, you can act out a variety of different scenes.
# A flexible plastic is used for important areas, allowing proportions to be kept without compromising posability.
# As a first in the figma series, Haruhi comes with a figma-sized cloth sleeping bag based on the one in the film. Head parts for sleeping also included!
# Two expressions for Haruhi are included - a sleeping face, as well as the sullen face she had before she met Kyon.
# An embarrassed, but smiling expression for use on the Nagato figma is also included - something needed to recreate even more scenes from the movie.
# A poseable figma stand is included, which allows various poses to be taken.
These pictures were taken by Max Factory or authorized person. Please visit manufacturer's home page in order to learn more. © 2009 Nagaru Tanigawa・Noizi ito/SOS団 ※画像は監修中のものです。 All rights reserved.