v.3.12 rev.1
main page
Register
Log In
Log In with:





Log In with:




Figures »
Nendoroid Petite Yuki Nagato Haruhi-chan Ver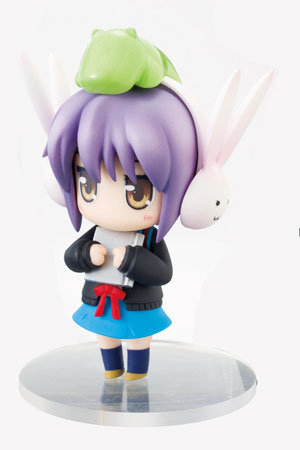 Features:
This Petite Nendoroid of Yuki Nagato came packaged with the limited edition version of volume three of the Suzumiya Haruhi-chan no Yuuutsu (The Melancholy of Haruhi-chan Suzumiya) manga, a gag spin-off of the Haruhi Suzumiya series, which has a retail price of 1680 yen in Japan. It comes with bunny headphones and balloon Kimidori-san accessories.
These pictures were taken by Good Smile Company or authorized person. Please visit manufacturer's home page in order to learn more. © 2007,2008,2009 谷川流・いとうのいぢ/SOS団. All rights reserved.
Blogs:

My Collection so far....
Hello everyone! Inspired by Eld's post, I wanted to post pictures of my entire figure collection so far. On March 15th I'll be hitting the road to move back to New Mexico. I'm getting ready to start boxing up all of my things and my figures will be one of the first things I pack so I can get them ou...
By pluvia33 | Figures & Dolls | 15 Feb 2010
↓ More ↓
↑ Less ↑