v.3.12 rev.1
main page
Register
Log In
Log In with:





Log In with:




Anime »
Zombie-Loan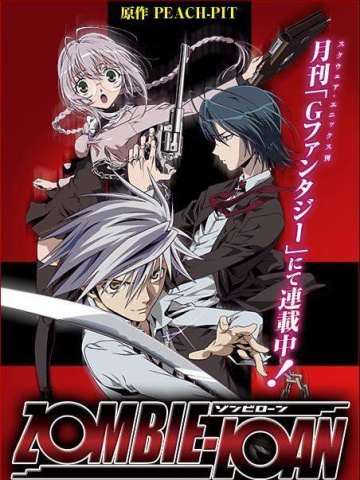 Alter titles:




Zombie Loan
ゾンビローン
Зомби на доверии
ZOMBIE-LOAN ゾンビ・ローン


Type:
TV (11 episodes), 25 min
Aired:
4 July, 2007 - 12 September, 2007
finished airing
Genres:
Adventure
Comedy
Drama
Supernatural

Studio:
XEBEC-M2

Rating:
7.4
Weighed:
7.57

(7 votes)

Grabbed by:
8
Summary:
Michiru Kita is a special girl who possesses Shinigami Eyes, a power which allows her to see a person's nearness to their destined death by seeing a ring, invisible to normal people, around the person's neck. When a person is marked to die, a gray ring appears, which darkens over time. Once the ring turns completely black, the person dies. Chika Akatsuki and Shito Tachibana, two boys in her class, both have black rings around their necks, but to her surprise, they are not yet dead. It is revealed that after a tragic accident that was supposed to kill them both, the two boys made a deal with a secret loan office called the Zombie-Loan. In return for keeping them alive, the two have to hunt zombies for the loan office. When Michiru gets involved with them, she finds that her life has just become more complicated. After hunting Zombies in an episodic fashion, Chika and Shito defect from Zombie Loan and head to China in an attempt to save Shito's mother from the Xu-Fu. However, the Xu-Fu captures Shito and attempt to use his body as a vessel for Lao Ye, the leader of the Xu-Fu. Lao Ye is eventually defeated and Chika and Shito return to Zombie Loan.
Soon after, Ferrymen begins to delete zombies for the sake of the Akashic records and has targeted the Zombie Loan.