v.3.12 rev.1
main page
Register
Log In
Log In with:





Log In with:




Anime »
Tsukuyomi -MOON PHASE-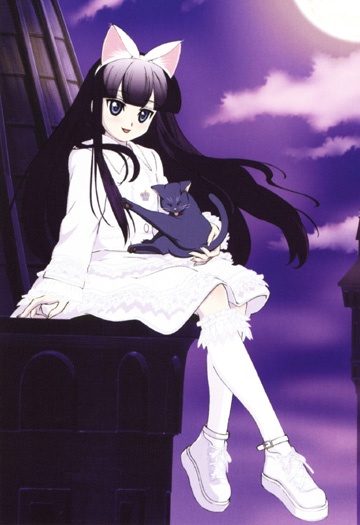 Alter titles:




月詠 −MOON PHASE−
Tsukuyomi Moonphase


Type:
TV (25 episodes), 24 min
Aired:
4 October, 2004 - 28 March, 2005
finished airing
Genres:
Comedy
Drama
Fantasy
Romance
Shounen
Vampire

Studio:
SHAFT

Rating:
6.84
Weighed:
6.2

(5 votes)

Grabbed by:
9
Summary:
Morioka Kouhei wants to become a photographer. Unfortunately, he has the tendency to unintentionally capture the images of ghosts on film.
One day, he visits an old castle in Germany where he meets a vampire girl, Hazuki. It turns out that Hazuki is confined in the castle against her will. She tries to turn Kouhei into her slave by sucking his blood, with the intent to have him break the device sealing her in the castle. Although Kouhei proves to be immune to the vampire's curse, he is eventually forced to help her. Hazuki successfully escapes from the castle and leaves for Japan to look for her mother.
When she arrives in Japan, she goes to Kohei's house where he lives with his grandfather, who agrees to take in the girl. Due to his own childhood experiences, the sympathetic Kouhei agrees to aid Hazuki in her quest.
However, other vampires, including Elfried and Count Kinkell, manage to track Hazuki to Japan. They will stop at nothing to retrieve her.