v.3.12 rev.1
main page
Register
Log In
Log In with:





Log In with:




Anime »
The Melancholy of Haruhi Suzumiya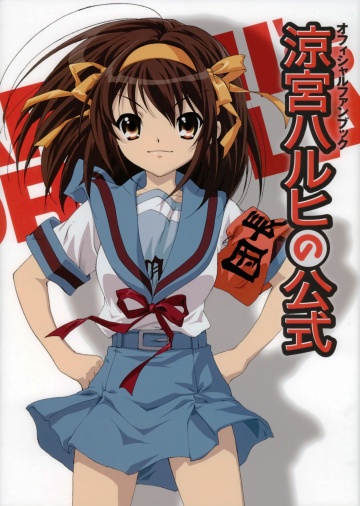 Alter titles:




The Melancholy of Suzumiya Haruhi
Suzumiya Haruhi Series
Suzumiya Haruhi no Yuuutsu
涼宮ハルヒの憂鬱
Меланхолия Харухи Судзумии


Type:
TV (14 episodes), 23 min
Aired:
3 April, 2006 - 3 July, 2006
finished airing
Genres:
Comedy
Mystery
Parody
Romance
School
Sci-Fi
Slice of Life

Studio:
Kyoto Animation

Rating:
8.1
Weighed:
8.27

(41 votes)

Grabbed by:
47
Summary:
Kyon, your typical high school student, has long given up his belief in the supernatural. However, upon meeting Haruhi Suzumiya, he quickly finds out that it is the supernatural that she is interested in; aliens, time travelers and espers among other things. When Haruhi laments about the lack of intriguing clubs around school, Kyon inspires Haruhi to form her own club. As a result, the SOS Brigade is formed, a club which specializes in all that is the supernatural.
Much to his chagrin, Kyon, along with the silent bookworm, Yuki Nagato, the shy and timid Mikuru Asahina, and the perpetually smiling Itsuki Koizumi, are recruited as members. The story follows the crazy adventures that these four endure under their whimsical leader, Haruhi. The story is based on the light novels by Nagaru Tanigawa.
Opening
Ending
Blogs:

My personal Spring-2010 anime chart - Part 2
Now when new anime season is in full swing, we can come to some conclusions about "must watch" and "drop for sure" titles. I made my choices too and now present you my personal Spring-2010 anime chart. And well… what was meant to be a brief review turned into a rather huge article! >_&amp...
By usagi_joou | Otaku & Japan | 23 May 2010
↓ More ↓
↑ Less ↑